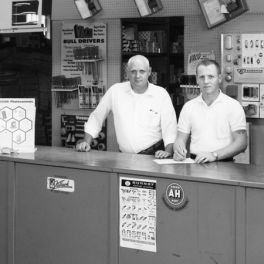 Our staff has been ready to help our customers since 1962. Pictured from Left to Right: Phil Spry and Jim Lucas.
Jackson Location
425 E. Washington Ave | Jackson, MI 49203
(800) 686-9301 | (517) 782-9301
Adrian Location
1153 W. Beecher Street | Adrian, MI 49221
(800) 589-9301 | (517) 263-5500
About McGowan Electric Supply, Inc.
McGowan Electric Supply History
Much of McGowan Electric Supply's business philosophy today has it's origins in Blair McGowan's vision for a successful full-line electrical distributor in Jackson, Michigan. From the start, the Company has focused on customer needs, monitored extensive inventory, reached out to customers of every variety and worked to strengthen and extend its customer base in Jackson and Lenawee Counties.
After returning from service in the U.S. Infantry at the end of World War II, Blair McGowan began working as a sales representative for Anaconda Wire and Cable Company which introduced him to the electrical distribution industry. He visited Jackson to serve Anaconda's two local accounts, Consumers Power Company and a 4-location distribution chain called Electric Wholesale Supply, which was headquartered there.
Blair eventually left Anaconda and joined Electric Wholesale Supply where he worked in their Adrian, Michigan location until 1952, when he was transferred to Jackson. In his 10 years in Jackson with that firm, Blair served as salesman and sales manager. During this stint, he developed his vision for a company he hoped to lead and he began to imagine the valuable role his enterprise could play in the community.
When the Square D Company ended its relationship with Electric Wholesale, Blair secured distribution rights from Square D for the south central region of the state and with Square D's approval, Blair began planning his new enterprise. Friends and family provided needed financing. Joe Dunigan shared his optimism and leased Blair the Liberty Street facility that Dunigan Brothers was vacating. Joe predicted the success of the business, assuring Blair that by the time his lease was up, McGowan Electric would be in a position to buy the building. He was right.
Blair brought a seasoned staff from the other distributor: Phil Spry served as purchasing agent, Rod Kirtland as outside salesman, Jim Lucas managed the counter, Bill Withrow worked inside sales and customer service functions, and Mary Jane Krallman handled the payables and inventory control. Jerry Love, the company's new shipping and receiving clerk, came from General Cable in Jonesville.
Everyone pitched in. The new staff built racks and shelves and filled bins with the new inventory. The conduit and lamp inventories arrived by rail car and the entire staff walked that material into the building from a freight dock that stood in the rail yard across the street. When the building was painted, the inventory loaded and the team well-assembled the doors finally opened on September 17, 1962.
Jerry Love began his career as company clown that morning when he poured a cup of coffee and collapsed in a chair, feet up on the table and announced "I'm bushed. I hope nobody comes in today." Jerry didn't get his wish.
The company succeeded following Blair's plan: reach out to potential customers, listen carefully to existing customers, treat fellow workers with respect, pay close attention to inventory levels, treat suppliers as partners and pay attention to friends and markets in Jackson and Lenawee Counties. Sadly, Blair died suddenly in 1984. His passing at 62 was a painful blow to his family and to his business. Rod Kirtland, Vice President and Sales Manager, assumed the role as Company President and directed the business with the full support of the McGowan family, then the sole owners of the company.
Rod led the company through difficult economic times, locally as well as nationally, and he also provided leadership through a significant period of growth. Nearly 30 years later, after opening its Jackson doors, Blair's vision of the company's growth into Lenawee County was further realized with the opening of a store in Adrian in October of 1989. Ben Howarth, a long-time Adrian resident and veteran in the electric supply industry managed our new location and was instrumental in getting this store off to a good start, assembling and training the staff and promoting our services throughout Lenawee County. One of his first employees, Steve Snyder, has succeeded him as manager.
In 1991 Rod retired and Mike McGowan became president. Mike had worked in the store during summer vacations while in school, as his brothers did, and he came to work full-time there in 1976 after college.
During Mike's presidency, the last of the original company staff retired. A fresh new team developed and become seasoned in expanding Blair's vision and continuing his philosophies: serve the company, serve the community, stay close to customers, respect the team, invest in inventory, and partner with suppliers.
In 2011 Kevin Dobbin became the second non-family president of the company. Kevin had formally been with the company for 16 years before leaving Jackson to spearhead a group opening a new distributorship. He returned to the Jackson area to manage the local branch of another distributorship and rejoined McGowan Electric in 2008 as Vice President with the understanding that he would serve as the next president.
Kevin continues in the traditional role of President at McGowan Electric Supply, incorporating the values important to its founder. Today, much of the Company's effort is focused on providing energy-saving solutions for lighting systems in all types of industrial, commercial, public and residential properties. The company assists its customers in identifying and utilizing incentives from electric utilities, and effective energy-efficient products. Additionally, McGowan Electric serves as a source for product information, design advice, and "ready-to-go" local inventory.
For 50 years, McGowan Electric Supply has served the electrical needs of the community and it is poised to continue this legacy into the next half century.